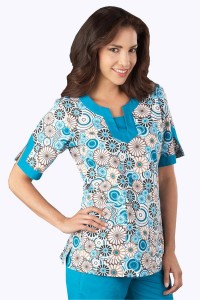 Nurses spend the whole day in their scrubs and then go home too tired to dress and party. Nurses live out almost their entire lives immersed in health care duties and this leaves them very little time to enjoy the nicer options of life such as fashion. Here are several tips on how to easily and inexpensively look great in your scrubs every day, and experience a little of the color and fashion that's missing in your life.
Buy The Right Scrub For Your Body Type
If you are top heavy and narrow at the hips, wear deep V-necks, princess seaming or open collar neck scrub tops in dark solid colors. These will narrow your upper portion. If you are bottom heavy, wear long tops that skim over your hips. This will hide a multitude of sins. Do not wear broad pants if you are heavy on the hips. If you are thin and petite, wear ruffled, smocked, and gathered tops to add some volume to your body. Layer your scrub top, camisole and jacket for a more substantial look as well. These steps will ensure that no matter what your body type, you will look good in your scrub.
Buy The Right Size Scrubs
When you buy scrubs, buy the right size for a good, comfortable fit. While this might sound like the easiest thing to do, it's a fact that many women don't know their actual measurements. As a result, they tend to buy outfits that don't fit them as well as they should. When you wear well-fitting scrubs, you'll feel more comfortable and more confident, and walk tall.
Wear Complimentary Colors
Select the right color scrubs for your skin tone. To find out if a color suits your complexion or not, hold the scrub up close to your face. If the scrub color gives your face a warm tone, then the color is right for you. If your face looks drawn, sallow or tired next to the scrub's color, then the color doesn't suit you. The idea is to wear colors that brighten your face.
Use Fetching Accessories
Nurses can use jewelry to accessorize their scrubs, while taking care to keep it subtle. Wear a delicate pair of earrings, a colorful hairpiece, and a slender necklace and so on. Your jewelry should bring out the colors of your scrub. Go ahead and wear skinny belts to give yourself an hourglass look. Wear a pretty scarf around your neck to bring out the colors of the scrub set.
Personalize Your Scrubs
Even if you buy your scrubs from a shop, there's no reason why you cannot put your own unique stamp on it. Take your favorite picture of your family and get it iron-pressed on your scrub top. Not only does your scrub become uniquely yours, but also the picture of your family becomes a conversation piece. You can come up with your own ways to personalize your scrubs and look good.
Try getting your name embroidered with a large flourish on the side of your top, for a very unique look. Embroider the seams of your pant's front pockets in an alternative color. On a solid color top, wear a nice bright flower brooch to pop the solid color. You can think of many ways to personalize your scrub.
Match Your Tops and Pants
Buy several scrub sets in prints and bold colors and then match up the separates. You can come up with creative matches and keep shifting your sets, wearing a new look every day. However, when you mix scrubs, ensure that when you wear a printed item, you downplay the effect using a solid color item. For example, you can wear a printed bottom with a solid top, which reflects one of the main colors in your bottom's print.
You can also mix prints, if they're of the same family. Mix florals with florals, and animal prints with animal prints. If your bottom has large prints, ensure that your top has small prints. Over time, you'll learn how to efficiently mix and match, creating new looks for yourself. If you find that a particular set that you've put together doesn't work too well, use a brooch, a bracelet or a scarf that contains the colors of both the top and the bottom, to tie up the entire look.