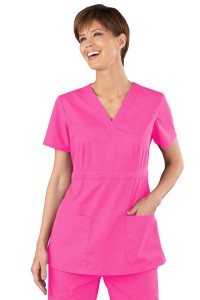 Looking good is everybody's right; no one wants to look out of place or downright ugly. Working in a hospital doesn't mean the right to look good is lost. As a medical professional, you have the right to look and feel good. Here are a few tips on how to look good in your nursing scrubs all day long.
Manage Workplace Stains
Stains and spills are part of a medical professional's day. Sometimes it's blood, and other times it's pathological samples, medicines, and even patient's meals. Nursing scrubs are made out of easy to wash and wear cotton and poly cotton fibers for this very reason. If you work in the OR, or the ER, with children, old people or in the lab, wear dark colored scrubs or dark prints as these tend to absorb spills better. They won't show up wet spots either.
Wear Disposable Scrubs
Always keep a couple of disposable scrub sets on hand. If you are suddenly called to OR, take off your expensive or designer set and pull on the disposables. You'll be very glad that you did. This way you can look good and save money on a good set.
Buy The Best Quality Scrubs
Stains attach themselves more easily to cheap scrubs than to good quality scrubs. Good quality scrubs won't wrinkle and stain as much as cheap ones will. By buying good quality scrubs in the first place, you can ensure that you will look crisp and neat.
Wear A Scrub Jacket
Wear a scrub jacket over your scrubs when you're helping a patient to eat, or clean him or herself. Buy a few cheap scrub jackets with snap front button closures that can be easily thrown on or removed when required. Protect your expensive or favorite scrub by using these jackets whenever there's a chance of them being spoiled.
Wear a Scrub Hat
Not everyone likes to sport short hairstyles; if you have long hair, it's best to pin it up neatly and wear a scrub hat over it. This will protect your hair from dust and grime, while giving you a professional look. If you are not comfortable wearing a scrub hat all the time, wear it only when cleaning or feeding a patient and while assisting in OR. Nothing looks worse than a nurse in a lovely scrub set and dirty, grimy hair.