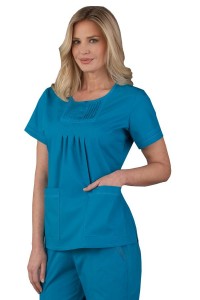 Medical professionals tend to purchase several scrub sets so that they're set for a week. However, after some time, boredom sets in; wearing the same set of scrubs in a cyclic manner makes them lose their charm. Then again, with the spills and stains that are common at hospitals, some scrub tops and pants might be ruined. This orphans pants and tops that used to belong to sets. By learning how to mix and match your scrub sets, you can inject freshness into your medical wardrobe, and make the best of orphan tops and pants.
Mixing Prints With Solid Colors
Invest in a few very good quality sets of solid colors, such as burgundy, black, dark red and deep purple. These colors absorb stains very well. Even if you have to throw away a top or pant from your dark colored sets, you can easily match the orphan pants and tops with printed separates. Traditionally, printed tops are matched with solid bottoms. This is because the pants cover a greater amount of area and the printed top covers less, while complementing the pant's color.
When you match a solid color top with a printed bottom, unless you coordinate the set perfectly, the outfit will look a little outlandish. To avoid this, pair solid color tops with pants that have very less print on them, or have small prints. Ensure that the color of the solid top is present in the printed bottom as well, to ensure that your ensemble doesn't clash.
Mixing Styles
Mix a loose fitting, long sleeved top with a loose fitting, well-flowing bottom. If your bottom has a more snug fit while your top is flowing, you'll look heavy at the top and narrow at the bottom. Make sure that the cuts are similar when you match your scrub sets. If your top has frills, gathers and smocking around the neck or the waist, wear it with a set of plain solid color bottoms to bring your top into focus. If you wear pants or skirts with similar styling, the effect will be totally lost.
Mixing Colors
While plain colored mixing tops and bottoms, always wear a pale-colored top with a dark bottom, or a dark-colored top with a pale bottom. If you must wear a pale top with a pale bottom, choose colors that work well together, such as light pink and light blue. Plain colors can clash horribly, so be careful when you match colors.