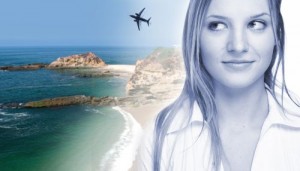 The exciting thing about the nursing career is that you can choose the specialty you want and the place where you want to work. Some of us like travel, but are not able to indulge in this desire because of the need to earn. As a nurse, you can indulge your desire for travel and see foreign places, while earning a good salary! You can do this by looking for a travel nurse job. A travel nurse can enjoy the freedom and flexibility of traveling Working in different locations while looking forward to change and knowing that your skills will always be in high demand will bring you great satisfaction. Doesn't that sound exciting?
Working As A Travel Nurse
There is great demand for licensed nurses in hospitals and other acute care facilities that need skilled clinical care professionals. There's also demand for travel nurses in luxury cruises, which have doctors and nurses on board. Travel nurses are also required on government and diplomatic carriers, but you'll have to obtain security clearance to work for the government. Sometimes wealthy clients hire travel nurses for home care. All these opportunities will require you to move around, meet different people, travel, and work in different locations and conditions.
Usually, travel nurse assignments last anywhere between three months to a year. The compensation is excellent and is usually supplemented by benefits packages, housing allowances, relocation assistance and per diem payments. These health care facilities need temporary nurses so badly that they are willing to reward travel nurses with sizeable term completion bonuses when the assignment is complete.
Travel Nurse Qualifications
Review your qualifications; you will need a valid Licensed Practical Nurse (LPN) or a Registered Nurse (RN) license, with at least one year's experience in a clinical setting, working in acute care environments. It helps your chances greatly if you certified to handle special areas. Travel nurses are usually hired based on their skills and expertise. As such, temporary travel jobs are reserved for nurses who can prove a successful track record. Apart from this, suitable references attesting to nursing skills, flexibility and work ethics are an absolute necessity.
It's also necessary that you show recent nursing experience, since medical technology changes so rapidly. If you have not been nursing for more than six months, you won't be picked for travel nurse jobs. In order to qualify for a travel nurse job, you will need to get back to being a staff nurse in an acute care facility.
Using Travel Nurse Recruiting Agencies
Many health care employment agencies specialize in placing travel nurses, such as American Mobile Health care and American Traveler. Check out each travel nursing company and understand how they function. Research different options and make an informed decision about which travel nursing company you want to use.
Talk to nurses who have been placed by the travel nursing company. You'll find out which companies are the best with good reputations, and what factors they look for in a travel nurse. Good travel nursing companies look for nurses with good qualifications, experience, presentability, great references, a willing attitude and excellent work ethics. You'll know that a travel nursing company is good based on what their criteria is for nurses they recruit and based on their clientele.
Note that a good, reputable staffing company will not charge you any fee for placing you. The medical facility that hires you will pay the agency for the placement. If a travel-nursing agency asks you for money to place you, you know you have met a scammer. Always read the fine print and ask upfront if you will need to pay fees. If the travel-nursing agency does not tell you upfront about charging you and tries to charge you later on, you can approach the law for resolution.
Applying For A Travel Nurse Position
You will have to complete quite a bit of paper work to apply as a travel nurse. Ensure that your professional resume is up to date and is error free. Keep copies of your driver's license, referral documents, certificates, diplomas and any other documents that might be required by possible employers.
Take the help of a reputable travel nurse consultant to help you with your application. You can also check with the consultant about different travel nurse recruiters and which one to choose. The recruiting agency is responsible for validating your background, your certifications and your experience. Once you are validated and certified as employable, your agency will look through temporary job postings for jobs that match your profile.
The agency will then negotiate suitable positions with you and the prospective employer, after which an agreement will be signed between your agency and your employer. You will then be briefed about the position. This is when you should ask your questions and carefully scrutinize the assignment before taking it up. Make sure you ask about housing benefits, pay rate, work hours, 401 (k) plans, other benefits and possibility of contract extension. If both you and the agency are all right with the details, a phone interview will be arranged between you and your prospective employer. You're then on your way to being a full-fledged travel nurse!