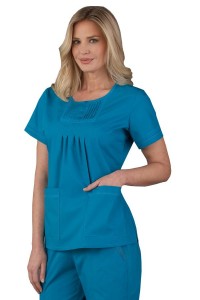 With all the wonderful designer scrubs that are available today, you can enjoy creating different looks every day. However, if your scrubs don't fit you well, it won't matter how pretty the scrub set is. Analyze your body type based on this article and select your scrubs accordingly.
The Four Human Body Types
People conform to one of the following four body types, with minor deviations here and there. The body types are:
Apple Shape: This type of body has broad shoulders, with the upper half of the body being considerably larger than the lower part. Women with the apple shape tend to be broad shouldered, busty, with narrow hips, and slim legs.
Pear Shape: Pear shaped people have narrow shoulders, moderate sized busts, small waists and carry most of their weight on hips and thighs. This gives them the pear shape, with the top narrow and small and the bottom full and curved.
Athletic Shape: These people are built slim, narrow at the shoulders and the hips. Women belonging to this body type don't have too many curves.
Hourglass Shape: Women with the hourglass shape have curves on both top and bottom, with an even distribution of fat.
The Right Scrub Styles For Apple Shaped Women
If you have a large chest, broad shoulders and narrow hips, use the following tips when you buy your scrubs:
Dos
Opt for long V-necks, with or without a collar. This will help make your shoulders look narrow.
Opt for a mock-wrap style. The wrap style cuts your body outline diagonally, taking inches off your upper body.
Wear dark, solid color tops. This will slim you down and give you a more even outline.
Wear fitted pants but ensure they're not tight. Wear printed bottoms, as these will make your hips look broader, keeping your body proportions more even.
Don'ts
Do not wear tight scrub tops, as this will make you look even bigger on top.
Do not wear baggy tops to hide your bust, as these will make your shoulders look bigger and your hips narrower.
Do not wear tops with large prints. Opt for small, even prints if you want to wear printed tops.
The Right Scrubs For Pear Shaped Women
If you have narrow shoulders combined with broad hips and heavy thighs, use the following tips while selecting your scrubs:
Dos
Wear a printed top as this will make your upper portion look bigger, to match with your hips.
Layer a printed hip-length jacket with a solid color top. The layering will give your upper body greater mass, while de-emphasizing the difference between your upper and lower body.
Opt for scrub tops with slight shoulder padding, or puff sleeves. This will give you a more broad-shouldered look.
Wear tops that cover you until your second hip line. This will give your hips a narrower outline.
Don'ts
Don't wear dark, solid color tops, as these will make your upper body look smaller.
Don't wear printed bottoms as these will exaggerate your hips and thighs.
Don't wear tight-fitted pants, as these will only emphasize your hips and thighs.
Don't wear short tops that come to just above the hips. This will make your hips and thighs stand out.
The Right Scrubs For Athletic Shaped Women
If you have an athletic, narrow and slim build, you can get away with many styles, as follows:
Dos
Opt for medium sized prints in your tops. Large prints will overwhelm your narrow frame.
Layer your scrub tops with scrub jackets with inner camisole layers. You can get away with layering owing to your narrow frame.
Wear tops with ruching, smocking and ruffles. These will give your upper body a little mass.
Wear flared pants, printed pants and broad pants, as these will make your legs look fuller.
Wear belts to add some curves and definition to your figure
Don'ts
Don't wear large prints as these will overwhelm your body type
Don't wear tight tops as these will make you look much smaller
Don't wear a matching tone on tone single color set as this will further narrow down your frame
The Right Scrubs For Hourglass Shaped Women
If you have curves at both the top and the bottom with a narrow waist, you have an hourglass figure. This type of figure looks great in any kind of clothing. Follow these tips to select the right scrubs for this body type:
Dos
Wear jackets with princes seaming, nipped-waists and belts, as these will make your waist look narrower.
Wear straight-legged pants so that your curves are well defined.
Wear tops with small all over prints
Wear tops with smocking and nipped waist details as these will look great on you
Wear tone on tone solid color sets
Don'ts
Don't wear scrubs that have no shape. Long, shapeless tunics and pants will turn your bust and hips from assets into unflattering bulges.