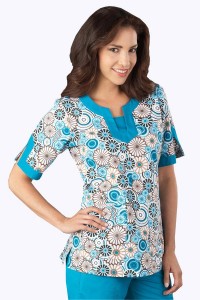 The scrub set comprising of a loose top and pants is the standard uniform for nurses in the US and in several other countries. Some hospitals have come up with uniform regulations that specific colors, cut and fit. However, in most health care centers, nursing staff is allowed to wear scrubs of personal choice. If you are a first time nurse looking to buy scrubs for your job, here are a few things that you should know about selecting the right scrubs.
Your Scrub Should Not Display Skin Or Inner wear
Your scrubs should fit you comfortably and move with, not against, your body. When you try on scrubs, make sure the pants don't slide down your hips and display your inner wear when you bend. This not only looks unprofessional but is also very embarrassing for staff and patients alike. Well fitting pants should have a wide inseam and fit comfortably at your waist. Also, make sure that the top is not so loosely cut that it allows skin to be viewed through the neckline.
Your Scrub Color Matters
Before you buy your scrubs, get an idea of your employer's color scheme. If there's no specific rule, pick colors that are strong and dark, such as black, navy blue, dark brown and maroon. These hold stains much better than light shades.
Choose Scrubs With Pockets
Pockets are your friends; you can stuff many handy items in them. Since you'll be carrying a patient chart, a stethoscope or other equipment in your hands, you need pockets to store other things. Things such as alcohol pads, a pair of scissors, and even a pair of gloves must be kept in pockets for handy use. So pick tops and pants with roomy pockets. Some designers don't include pockets for women, since bulky pockets interfere with the body shape.
Choose Scrubs Of Good Quality
Even if it means you have to spend more, buy scrubs from a good quality manufacturer. Don't compromise on the quality just because you spotted a few cheap pairs at Walmart. Remember that you have to be in time for your shifts and you cannot bother with linty scrubs, or scrubs with the stitching coming out, or scrubs with the color washed out. Get one good pair instead of 5 bad ones.
Buy Scrubs That Are Soft
You'll have to wear your scrubs all day long. 100% cotton, breathable scrubs in a soft finish are probably the best. Even if your scrubs have some polyester and spandex in them, get the softest ones you can afford. The material should be comfortable against your skin and should absorb sweat and keep you cool.
Buy Scrubs That Fit Well
Always try the scrubs on for fit before you buy them. They may look to be a good fit on the hanger but you won't know till you try. You should feel as comfortable in your scrubs as you do in your favorite jeans and t-shirt. Your scrubs shouldn't be so baggy that movement is difficult, or so tight that they'll split.
Buy Enough Scrubs To Last A Week
The last thing you want to do when you're getting ready for your shift is to iron your scrub. When you buy enough scrubs to last you a week, you don't have to worry about ironing them in the morning and washing them in the night. Buy at least 3 to 4 pairs of scrubs. Use three regularly and keep the fourth as spare, for emergencies.
Buy Fade Resistant Scrubs
Check for the fade resistant label and clarify with the dealer or manufacturer that the scrubs don't fade easily. It's awful to pay a good sum of money for a pair of dark colored scrubs that then fades in spots, looking scruffy after a few washes. Nothing looks less professional than scrubby, faded-looking scrubs that look like they've seen better days. Even if the retailer says a pair is fade resistant, buy only one pair, check out if they are indeed fade resistant and then go for more.
Buy Stylish Scrubs
This one is just to pander to your vanity, but it never hurts to be stylish. As long as the design fits comfortably, there's nothing wrong in buying scrubs with different neck cuts, ties on the back or sides, piping and embroidery. Wearing a pair of stylish scrubs will give you an extra boost of confidence as you go about your rounds. As long as your employer is ok with the style aspects, go ahead and buy them and make yourself feel good.
Buy Scrubs At Sales And Save Money
You certainly must focus on better brands to get value for money, but that does not mean hit the retailer and spend all your money on multiple outfits. Most brands hold sales. So unless you need your scrubs urgently, wait for these sales to make the most of your dollar. You can also buy scrubs at incredible deals and discounts from well known brands online. Sometimes online stores offer buy 1 get 1 free deals, which can be very lucrative while buying scrubs.
{ 0 comments }