Nursing scrubs are not just convenient cotton tops and loose pants that you pull on when you get to work every morning. Nursing scrubs define your personality and tell people who you are. A well-fitted and styled set of matching nursing scrubs can make you stand out and make others take note of you. You will be seen as a confident nurse who cares about projected the right image, when you are seen wearing a good set of scrubs.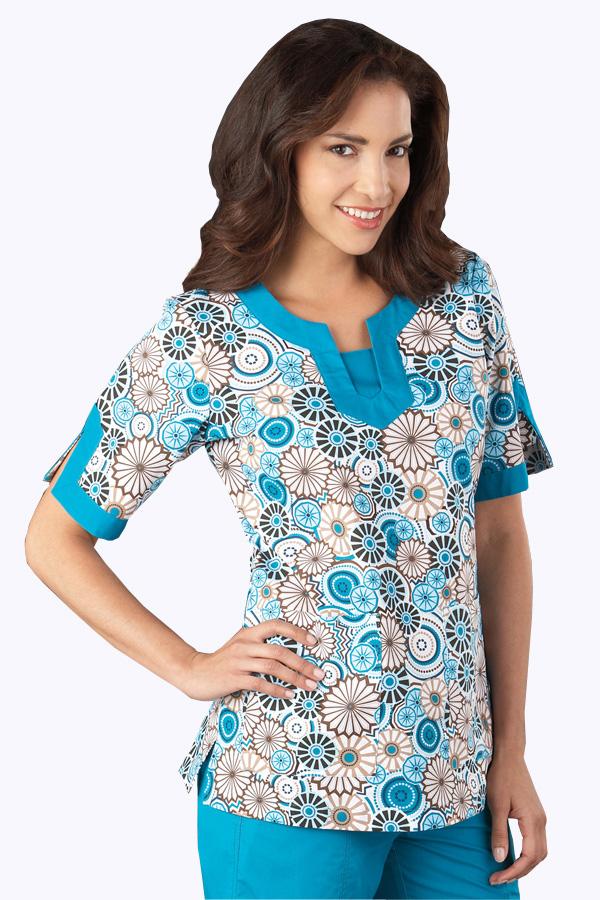 With the wide choice of nursing scrubs that are available today, you no longer have the excuse of wearing boring old scrubs to work. Hospital staff also knows and understand fashion.
The Cheerful, Upbeat and Optimistic Personality
For example, if you are a cheerful, upbeat kind of person, you'll probably go for colorful, flowery, bright tops. When people see you in a flowery scrub top, they will see you as someone who doesn't take life too seriously, someone with a sense of humor and inner peace. It's not that you'll be stereotyped when you wear nursing scrubs of a particular type. It's just that people around you are influenced by the clothes we wear and a cheerful set of scrubs has the effect of cheering the others around you.
The Funny, Comical and Quirky Personality
If your nursing scrub has pictures of cats, dogs and funny people, you are seen as a funny, comic and quirky personality. People like being around quirky personalities, as they are considered creative and fun. However, going overboard on the cats and dogs might earn you a certain amount of sarcastic disrespect too, especially with juniors. It's good not to take yourself and your career too seriously. However, it's not good to demonstrate through your clothes, intentionally or unintentionally, that you don't give care o what others think.
The Boring, Stable Personality
If you prefer to wear only solid, dark color nursing scrub sets to work, people sooner or later associate you with a rather stable but boring personality. You will be seen as reliable and consistent but rather lacking in imagination. While this will not affect your career options, you might find yourself alone more often than not. Injecting a bit of color and a bit of unpredictability into your nursing scrub wardrobe now and then might loosen up your image with your coworkers.
The Flashy, Fashion-conscious Personality
If you tend to buy the latest in nursing scrubs, with focus on designer scrub wear, you'll be noticed as a fashion-conscious health worker. While there's nothing wrong with being fashionable if you are a health worker, you might have to exert a little caution and not go overboard with the fashion. Your work as a nurse brings you in contact with different chemicals and there's always a chance that your scrubs will be ruined by them. The more expensive the scrub, the greater your loss.
If you take extreme measures to avoid chemical spills and bloodstains while performing your nursing duties, you'll be less of a nurse and more of a fashion model. This will not bode well for your career. For example, if you wear an expensive pair of silk scrubs to work, you'll be focused all day on keeping your scrubs neat and safe. Your scrubs are meant to help you do your job and make you look good at the same time, not to distract you from doing your job.
The Klutzy, Mismatched Personality
It's important to match your scrub top to your scrub pants. Matched scrub sets are now available from most leading nursing scrub stores. Make an effort and dress well for your job. Remember that just investing money in good scrub sets is not enough. It's necessary to wear them properly in order to project the right image. Match your top with your pants, and wear the right shoes with your scrubs. Don't wear silly looking sneakers with a classy designer scrub set. Your shoes must help you stand on your feet for long, yes, but they should also be good looking. Ensure you invest in a few generic, goes with everything kind of shoes in sturdy rubber.
Conclusion
While it's important to select the right scrub set that reflects your personality, remember that you don't have to fit in with what others perceive about you. Personalities are not fixed. You could opt to be a funny person today and a sober, serious one tomorrow.
Wear the scrub set you feel like wearing when you dress for work. The important thing is to ensure that the scrub top matches with the bottom and the shoes are the right kind to wear with the chosen set. Most importantly, walk with confidence and you will carry off any nursing scrub set that you wear.