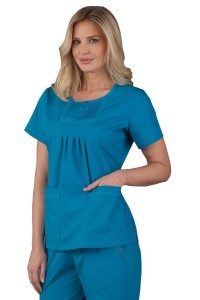 So you've graduated nursing school. Congratulations! You're now ready to prepare for your very first job as a professional nurse. With the advent of fashion into every profession, the nursing profession has seen its share of fashionable trends in scrub tops, pants and even scrubs jackets. Read the tips we've gathered from nurses in real life to help you buy the right nursing scrubs for your new job.
1. Follow Your Employer's Dress Code
Before you pocket your credit card and go shopping, check if your employer has any dress code for nurses. It's possible your employer is among the few in the US that insists on a white nursing dress code, allows only certain colors, fabrics and styles, or requires you to dress according to your medical specialty. For example, in some hospitals, emergency room nurses wear only royal blue scrubs, nurses serving in obstetrics and gynecology departments wear teal blue scrubs, while nurses working in the cardiology department wear surgical green scrubs and so on.
It's possible that your employer has a separate dress code for different nursing levels as well. In some hospitals, practicing nurses wear royal blue scrubs; certified nursing assistants wear black scrubs while RNs wear forest green scrubs.
2. Decide On Colors, Prints and Fabrics
Choose colors, prints and fabrics depending on the image you want to present, your comfort needs and your looks. Study yourself in the mirror while holding up different colored scrub sets before you select a set.

Colors: Choose colors that suit your looks. Keep in mind that solid dark colors are slimming while pastel colors tend to exaggerate curves.
Prints: Stick to small prints if you're on the shorter side, so that your prints don't overwhelm your personality. If you are tall, you can opt for larger and more elaborate prints. Also, try to stay away from wild prints with too many colors, as these don't look professional. Try to opt for beautiful sets that use prints on the sleeve trims, and on the hems of your top and pants.

Fabrics: You can choose from a variety of fabrics, such as cotton, linen, cotton with lycra, breathable cotton and polyester blends, seersucker, chambray and even corduroy.
3. Buy Comfortable Scrubs
Medical scrubs are designed to fit different body types. It's best to opt for medical scrubs that fit comfortably, allowing your body to breathe throughout your long workday. Stay away from fabrics and designs that will cause discomfort, never mind who designed them. Try on a scrub before you buy it; if possible, bend, stretch, and walk a few steps while wearing your trial scrub. You'll get a better idea as to how the scrub will fit you during your day. Buy loose fitting scrubs in breathable 100% cotton for comfort. If you feel that 100% cotton scrubs are high maintenance, you can go in for polycotton fabrications, which are also comfortable. Buy scrubs with spandex or lycra in them for that extra stretch and flexibility. Buy scrubs with pockets if you need to carry your cell phone or other essentials with you. note that your work efficiency depends greatly on how comfortable you feel in your chosen nursing scrubs.
4. Choose Designs That Look Good On You
Choose scrubs that look good on you. you get scrubs with different necklines, sleeve lengths, body cuts and so on. some scrubs come with a little ruffling or smock detail just below the bust. Some scrubs use alternating block colors that highlight specific parts of the body.
Note that while all these pretty aspects look good on a mannequin, the idea is that you should look good wearing them. If you are short, opt for styles that elongate your body, such as straight cut long tops that hit you below the hip, with ¾ or full sleeves. Also select long V-necks as these tend to make your neck look longer. If you are on the plump side, stay away from too many alternating shades in your scrubs, and buy solid single color pieces with strategic embroidery or prints.
5. Choose Scrubs To Suit Your Projected Image
Printed scrubs are a great option for you if you like displaying your individual character traits. If you are the sober, sedate type and want to present a strictly professional image, opt for scrub sets in solid block colors such as navy, black, royal blue and forest green.