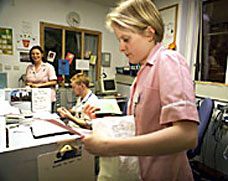 Owing to the huge nursing shortage in the US, existing nurses are being overworked and over-deployed. Nurses feel that they're overworked and are therefore not able to do their best for their patients. This means that patient care and outcomes are affected by heavy workloads coupled with insufficient staff. A number of studies have shown that compelling nurses to work more than 12 hours a day can endanger the health of patients. This phenomenon is called "error-producing fatigue". Long working hours pose a serious threat to patient safety. This is because fatigue slows reaction time, diminishes attention to detail, decreases energy and greatly contributes to errors. Fatigue can also cause anger when compounded by the need for rest, necessity to work and lack of understanding from others.
Based on a survey of 2,203 nurses in 11 countries, about 92% of nurses are shortcharged when it comes to time, which prevents them from spending necessary time with individual patients. 96% of the respondents also said that spending more time with individual patients has a significant and positive impact on their health. All of this has a negative impact on the hospital or healthcare center that is understaffed.
1. Overtime Associated With Higher Rates Of Infection
The Centers for Disease Control & Prevention (CDC) says over two million hospital infections occur each year. Close to 90,000 people die each year because they made the mistake of checking into a hospital with overworked nurses. Higher levels of overtime hours are associated with increased rates of infection, including skin ulcers and catheter-associated urinary tract infections. On an average, ICU nurses work overtime 5.6 percent of the time in most major hospitals.
2.Negative Patient Outcomes Ruin Hospital Reputation
Hospitals that are understaffed, with overworked nurses give out the impression that they don't care for their patients' wellbeing. Overworked nurses tend to make mistakes in judgment, which result in medication errors, negligent patient care and accidents. Patients tend to avoid getting into hospitals that receive a great deal of negative publicity, unless they cannot avoid it. Word of mouth does a great deal of damage as well and an otherwise well structured health care center will suffer loss of profits, loss of name and loss of trust in the public as well.
3.Errors In Medication Increase Mortality Levels
When it comes to nursing, errors happen when nurses are stressed beyond their ability to cope. There are many reported cases of nurses mixing up medications meant for other patients. Errors in medication counts for a number of accidental deaths in hospitals. Next to hospital infections, errors in medication cause the most number of deaths.

4.Failure To Rescue Due To Overworked Nurses
The failure to rescue syndrome occurs when a patient goes into critical mode and there's no one around to attempt rescue. More and more failure to rescue cases are being reported, owing to overworked nurses who are not able to spend time caring for critical patients.
5.Errors By Inexperienced Staff Without Adequate Supervision
Owing to shortage of experienced nursing staff, hospitals are sometimes forced to place inexperienced, junior nurses in charge of patients that require critical care. When this happens, there's greater chance of accidents, medication errors and other mistakes occurring that can potentially damage a hospital's standing. Inexperienced nurses must be supervised by senior nurses all the time. In an overworked scenario, this is not possible and accidents occur, causing the hospital loss in equipment, errors in judgment and so on.

6.Aggravated Medical Conditions Caused Due To Overworked Nurses
Hospitals that are understaffed with nurses tend to see higher rates of shock, cardiac arrest, urinary tract infections, pneumonia and other complications occurring in their patients.
For each surgical patient per nurse, there's a 7% higher likelihood of death within a month of admission. There's also a 7% higher likelihood of failure to rescue patients. If the RN staffing shift per patient was increased by just one half hour, the incidence of pneumonia in surgical patients can be reduced by more than 4 percent.
7.Negligence Caused Due To Overworked Nurses
Negligence towards patients and responsibilities may not be intentional. Negligence occurs as a side effect when nurses are overworked. When mistakes made by nurses due to negligence causes patients to suffer injuries or death, there's a malpractice lawsuit just waiting to happen. Higher staffing at all levels of nursing is associated with a 25 percent reduction in negative outcomes owing to nurse errors and inattention.
8.Overwork Gives Rise To High Nursing Turnover
When hospitals overwork nurses and put them on long straight shifts and double shifts, nurses feel unappreciated. Morale goes down and as a result, nurses start look for greener pastures. Overwork, understaffing and high patient-nurse ratios cause stressful situations for nurses, which they try to escape by leaving their jobs. This leads to a high nursing turnover. Hospitals hire fresh nurses to combat the nursing shortage, which causes more issues as new nurses will be relatively inexperienced. The cycle continues and the patient pays the price time and again.
9.Overworked Nurses And High Mortality Levels In ER
ER nurses work shifts longer than 12 hours. As a result, they are overworked and under constant stress. The demands of dealing with patients that are wheeled into the Emergency Room are high. Nurses have to be alert and cognizant at all times, since ER patients require critical care. Overworked and tired nurses can make many wrong judgments while caring for critical ER patients, causing accidental deaths. On any given day, ambulances keep rolling in and deposited accident victims, gunshot victims and patients who've suddenly developed complications into ER. Due to the nursing shortage, a single nurse has to monitor multiple beds in ER. In this scenario, there's a very high chance of nurse error with several potential lawsuits brewing every minute.
10.Overworked Nurses Impact Hospital Care Compliance
All hospitals have set rules for care compliances and all medical staff has to maintain records and sign off on various forms to indicate their compliance. A 100% compliance to care guidelines will ensure that accidents, errors and unnecessary fatalities don't occur.
Hospital care processes involve communication, timely response to pages and telephone calls, delayed patient discharge after a complete sign off, patient wait time for laboratory tests and procedures and so on. Each one of these processes is impacted owing to nursing shortage. Since the patient-nurse ratio is high, hospitals are sending patients home before they're ready to be discharged, just to adjust the nurses' schedules.
The nursing shortage and overworked nurses handling twice their regular responsibilities interfere with the time nurses need to collaborate with other members of the health care team. When this interaction time is limited, it's tough to detect patient complications early in their development, and maintain patient safety.
The time spent with patients, and the quality of health care that patients receive is already impacted. What's more impacted are the hospital care processes. It's hard for hospitals to stay on top of care compliance, given the rush that hospitals go through. Demanding that nurses take on more workload only results in increasing the already 50% nursing turnover. As a result, right from the root levels to the highest, hospital care quality is reducing worldwide.